brazilian jiu-jitsu
the grappling style famous for its effectiveness
---
Yamasaki Academy Woodbridge BJJ Programs
---
Mon,Wed 5:00-5:30pm & Tues,Thur 5:30-6:30pm & Sat 11-12pm
Brazilian Jiu-Jitsu, or BJJ, is a grappling style derived from Judo.
Mon - Fri 7:30-8pm & Sat 10-11am
Beginners programs for adults with little to no prior training experience.
Tues, Thurs 7-9:30pm & Sat 12 -2:00pm
Brazilian Jiu-Jitsu, or BJJ, is a grappling style derived from Judo.
---
About Brazilian Jiu-Jitsu
---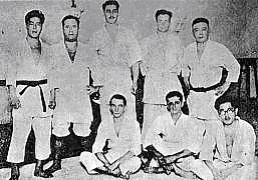 Jiu-Jitsu was introduced to Brazil in the early 1914 by Mitsuyo Maeda, also known as Count Maeda. Maeda was a Judo practitioner from the Judo Kodokan school in Japan and prizefighter who emigrated to Brazil and met Gastão Gracie who was a business partner of the American Circus in Belém. He taught his style of Judo (known widely at the time as "Kano Jiu-Jitsu") to Gastão's son Carlos. Carlos, in turn, taught what he learned to his sons Osvaldo, Gastão, and Jorge and Helio. Hélio was too young and sick at that time to learn the art, and due to medical imposition was prohibited from taking part in the training sessions, learning instead by watching his brothers. He eventually overcame his health problems and is now considered by many as the founder of Brazilian Jiu-Jitsu (though others, such as Carlson Gracie, have pointed to Carlos as the founder.) In 1925 Carlos opened the Gracie family's first BJJ academy. The ad in the newspaper was a marketing masterpiece: "If you want to have your arm broken, look for the Gracie Academy."
The family's victories in no-rules matches in Brazil started becoming legends and front-page stories. In 1967 the Guanabara Jiu-Jitsu Federation, in Rio, was created under the authorization of the country's National Sports Confederation. The president of the Federation was Helio Gracie, and the president of the Consultative Council was Carlos Gracie. His first-born, Carlson, was director of the technical department. Among the still-primitive rules, moves like takedowns, frontal mounts with both knees on the ground and the back-take yielded one point. Match duration for the adults category was set at five minutes, with three minutes' overtime.
It wasn't until the early 90's that Jiu-Jitsu came to the forefront of the martial arts community. Created by Helio Gracie's son Rorion Gracie in 1993, the Ultimate Fighting Championship (UFC) started the sport known today as MMA. Starting with pioneer Rorion's brother Royce Gracie who brought Brazilian Jiu-Jitsu to the world by going undefeated through the first few UFCs which had little to no rules compared to today's sport of MMA.
On another front, Carlos Gracie Jr. picked up his father's work organizing championships and strengthening the art as a regulated sport. The International Brazilian Jiu-Jitsu Federation (IBJJF) was created in 1994, and these days it promotes tournaments all over the world including the World Championship, held annually since 1996.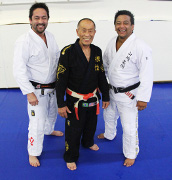 The Yamasaki families formal education in Jiu-Jitsu began when he Yamasaki brothers Shigueto and Shigueru, started to learn Jiu-Jitsu with their father Mr. Yamasaki Seiti but as they got older, they began to train at a Jiu-Jitsu school in a country village in Sao Paulo.
During Master Shigueru his first class at the Sao Paulo academy, he began sparring without any knowledge and the result was a dislocated shoulder but this did not deter his program is the art.
After the World War II, the Yamasaki family moved to the city and started to train with Master Ryuzo Ogawa.
The Yamasaki brothers were quick learners in mastering the sport and the Yamasaki family opened their first school on the early 1950′s following the guidance of Master Ryuzo Ogawa. At this time, the Yamasaki Academy continued using the Judo terminology to describe the art.
The Yamasaki Academy was an instant success and within a short time, the Yamasaki family had 12 locations. By the early 1960′s, the terminology had changed from that of Judo to become what is known as modern Jiu- Jitsu which became the focus of the adult training programs.
The interest in Jiu-Jitsu was quickly growing beyond just adults and the Yamasaki brothers pioneered a new youth martial arts program in Sao Paulo which was based on a completely new methodology.
Over the past 70 years, the rules of judo have undergone a great change and Master Shigueto Yamasaki was asked by his student Carlos Catalano to collaborate with the innovations based on his deep experience in the sport. Master Shigueto Yamasaki acted as referee in the Olympics of Montreal (1976), Moscow (1980), Los Angeles (1984), and Seoul (1988). Master Shigueru Yamasaki was also a referee for the Olympics in Barcelona (1992). The Yamasaki brothers were also the coaches for the Brazilian National team for many opportunities.
After having started families, both brothers kept focus on coaching, raising their families, and training future champions. The oldest brother Shigueto had 3 kids, including his middle son, Shigueto Yamasaki Jr. who as a teenager was Brazilian national champion and eventually became the Judo Pan-American champion, European tour champion, and in '92 became an Olympian at the Barcelona Olympic games. Shigueru raised Mario, Fernando, and daughters Solange and Eliana. Both Fernando and Mario trained from a young age and Mario received accolades including being a State Champion in judo. Mario went on to earn many other titles before he started training Gracie Jiu-Jitsu under the guidance of Marcelo Behring.
Today, Mario Yamasaki is one of the best known and most respected MMA referees in the world. Fernando Yamasaki started his martial arts training in judo and wrestling before starting his training in Brazilian Jiu-Jitsu. Mario Yamasaki moved to the US and opened the first Brazilian/Gracie Jiu-Jitsu school in the DC area in 1995. Fernando joined Mario and business partner Francisco Neto in 2003. Currently the Yamasaki family has several schools and affiliated schools around the United Sates, Brazil, the Dominican Republic, and Europe.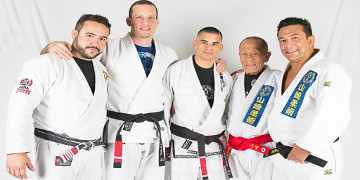 Joe Cunningham is the head coach and instructor at the Woodbridge Yamasaki Academy.  Joe has been training with the Yamasaki Academy since 1998 and has received every belt through the Yamasaki Family.  He is currently ranked as a 2nd degree Black Belt in Brazilian Jiu-Jitsu.
Francisco Salguero is the assistant BJJ coach and instructor and head MMA coach at Woodbridge.  Cisco has been training BJJ with the Yamasaki's since 2004 and has received every belt through the Yamasaki Family.  He is currently ranked Black Belt in Brazilian Jiu-Jitsu.
Assistant BJJ coach Scott Sperling began training BJJ in 2005 in Seoul, Korea and instantly fell in love with the sport. Being in the military gave Scott an opportunity to train and compete all over the US and Europe. Scott received his brown and Black Belt from the Yamasakis.
David Tepper began training with coach Joe Cunningham in Brazilian Jiu-Jitsu and MMA with coach Francisco Salguero in 2008 and started dominating the local BJJ and amateur MMA scene. He is currently a brown belt in BJJ and has received all of his belts from the Yamasakis.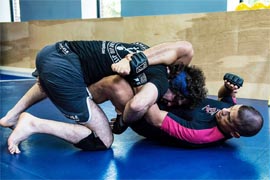 At the Yamasaki Academy of Woodbridge we strongly believe that Self-Defense doesn't have to be Self-Offense. By training in a Combat Sport like Brazilian Jiu-Jitsu you will learn how to control a bigger and stronger opponent of lesser skill. We that we don't have to strike or hurt someone to stay safe and win in competition. This is very often an important distinction for people seeking self-defense training in that we don't have to be more violent than our "opponent".
That being said, Mixed Martial Arts (MMA) training is different than Self Defense training. Being safe is your main priority for self defense, winning your fight is for MMA. Because all of our MMA fighters are required to take our Brazilian Jiu-Jitsu classes we do cover principles necessary to be successful in MMA. We feel that adding striking into the grappling game is not only necessary for MMA but improves our overall grappling skills as a whole.