muay thai
the striking art known as "The art of 8 limbs"
---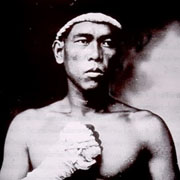 Muay (translation: boxing) Thai is the national sport of Thailand. Known as the Art of 8 Limbs, Muay Thai was developed on the battlefields by the Tai tribe people, later to be the Thai people. Battles were fought to the death with nothing more than their bare hands, elbows, knees and legs. Hands became the sword and dagger, shins and forearms were armor, elbows took the place of the mace or harmer, while the legs and knees became the axe and staff. As the kingdom on Thailand developed and grew, King Naresuan made this style of boxing the nation sport and created entire armies of Muay Thai fighters. It was during this time that fighting in a "ring" became popular and fight centers were developed all over the kingdom.
Eventually Muay Thai became a form of entertainment. The sport had become an integral part of celebrations and festivities across the country. The length of each round was measured by a coconut with a small hole that would float in water. The coconut filling with water and sinking to the bottom of the barrel signified its end, though there was still no limit to the number of rounds per fight. Combatants continued to fight until a clear winner was chosen, or one person was left standing. Fighters, competing for royalty and honor of becoming royal guards, could bring audiences from far and wide. The most famous of these legendary fighters was Nai Khanomtom from the 18th century. Captured by the Burmese, this Thai warrior was forced to fight in front of the Burmese king against his best fighters. He so impressed the Burmese king with this skill he won his freedom by going undefeated and returned to Thailand a hero. The legend of Muay Thai as one of the best hand to hand forms of combat grew.
In 1778, legend has it that two French brothers came to Thailand in search of boxing competition. One of the brothers was a renowned fighter who wanted to fight a Muay Thai fighter for prizes. The King of Thailand constructed a 20' x 20' ring at the Grand Palace at the temple of the emerald Buddha and offered 4000 baht to the challenger. The story goes that the larger French fighter was winning early but quickly tired when, on the verge of losing, his brother jumped in the ring to help. This caused a huge riot between the foreign spectators and the Thai. The two French brothers left in disgrace.
Muay Thai would take the world stage in World War I. Under French colonial control, Thai fighters stationed in France would organize Muay Thai bouts to boost the morale of the servicemen. French boxers would often participate and compete against the Thai fighters. Back in Thailand, the first permanent boxing stadium was built after the war. They still did not have the modern gloves used today, so fighters' hands were wrapped in cotton and hemp. When soldiers returned from tours of duty, they often engaged in matches for sport and fun. Older soldiers, being survivors of many battles and hand-to-hand confrontations, became "Kroo Muay" – instructors and teachers.
By the second World War foreign military personnel stationed in Thailand were learning and fighting Muay Thai with the locals. Major Muay Thai stadiums were erected in large cities throughout the country. Bangkok's Lumpini Stadium is now almost considered the "holy ground" to the masses of Muay Thai fighters, local and foreign. An integrated system of weight-classes, absolute rules and championships were introduced and became the sport of Muay Thai as we know it today.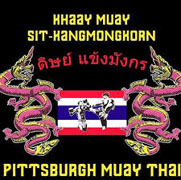 Head Muay Thai coach Ron King III began his Muay Thai training at the age of 12 with Bao Khong. He then started training with coach Mark DeLuca in 2012. By the time Ron was 18 years old he had 19 amateur fights under his belt and at 19 has 22 fights. He continues to train and fight on the national and international scene.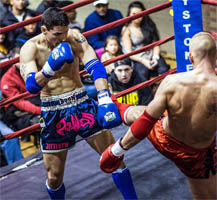 At the Yamasaki Academy of Woodbridge we strongly believe that Self-Defense doesn't have to be Self-Offense. Learning a Combat Sport like Muay Thai, considered by many to be the most effective striking art, is a huge advantage from a Self-Defense perspective in that it allows the Muay Thai fighter to dictate the level of violence. By learning to win in the ring against another highly skilled fighter we are learning how to defend ourselves from a bigger, stronger person of lesser skill.
That being said, Mixed Martial Arts (MMA) training is different than Self Defense training. Being safe is your main priority for self defense, winning your fight is for MMA. Because all of our MMA fighters are required to take our Muay Thai classes and compete in Muay Thai fights we do cover principles necessary to be successful in MMA. Learning to be the most effective striker with all of the possible weapons gives our fighters the best advantage to win in the cage as well as the ring.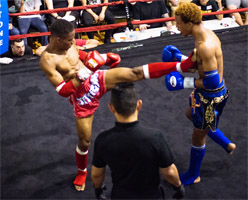 While Yamasaki Academy of Woodbridge encourages Muay Thai students to compete, we understand that not every student will want to become a Muay Thai fighter. A student must meet certain minimum eligibility requirements before being invited to join the Muay Thai Fight Team. Being a member of the Fight Team not only means you can be eligible for fights, but it also brings with it certain privileges such as discounts on equipment and merchandise. We believe that competing in Combat Sports has a number of benefits, including:
Gives you purpose in training.
Builds confidence and self-discipline.
Puts you in the best shape of your life.
It builds comradery with the other competition team members.
Yamasaki Academy Woodbridge Muay Thai Programs
---
Mon,Wed,Fri 5:30-6:30pm & Tues, Thurs 5:00-5:30
Considered by many to be the most effective form of striking.
Mon - Fri 7:30-8pm & Sat 10-11am
Beginners programs for adults with little to no prior training experience.
Mon, Wed, Fri 6:30-7:30pm
Considered by many to be the most effective form of striking.